Maintain Your Oral Health With Regular Hygiene Appointments
The Dental Hygienist plays an essential role in looking after your teeth and mouth.
Even those of us with excellent home brushing and flossing routines are likely to have areas that are hard to reach, and it is here that plaque and tartar can build up. A professional scale and polish will remove all traces of both tartar and plaque, which are major causes of gum disease, dental decay and tooth loss.
Another important function the hygienist provides is to help you develop a more efficient cleaning regime at home. This may include teaching you how to use special tools such as interdental brushes to get to those hard-to-reach areas, which type of toothpaste to use, and advice on the tooth brushing technique. It can also include dietary advice, including how to cut down on sugar in your diet, which will improve your oral and general health.
Hygienists are excellent at removing common stains from the teeth, which can help to brighten up your smile without the need for teeth whitening (an excellent option for pregnant and breastfeeding patients, who are advised to avoid teeth whitening).
Helping to avoid tooth loss and gum disease is important when it comes to protecting your general as well as your dental health as gum disease has been linked to many conditions, and tooth loss can affect your diet.
Along with your regular check-ups, it's important to visit your hygienist every 3 – 6 months.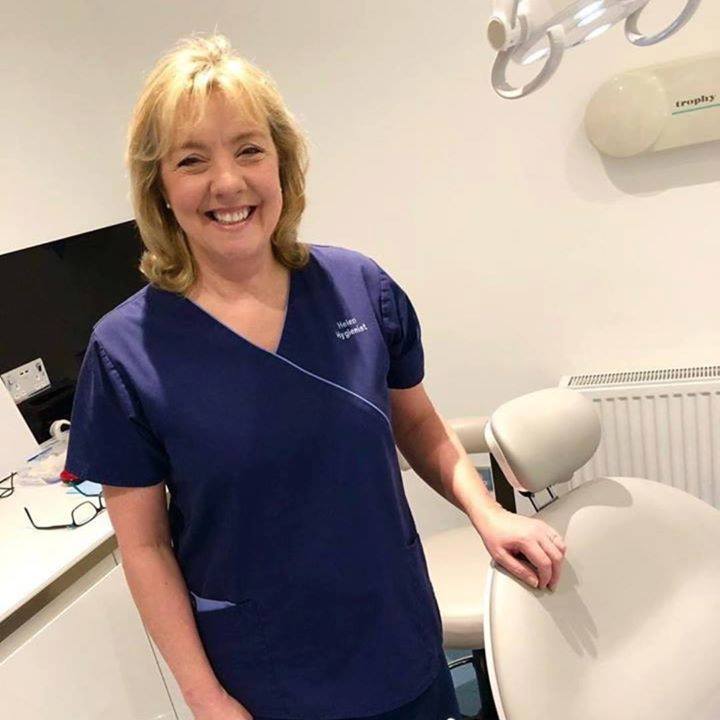 To book a clean and polish with our Hygienist Helen, please call our practice on 01505 873852 today. Typically, a hygiene appointment at EnVisage Kilmacolm will be from £48
Airflow can be seen as a more affordable alternative to teeth whitening without the use of bleaching solutions.
Airflow polish helps to remove stubborn stains and also helps give the appearance of a brighter, whiter smile as well as healthier gums by combining three elements: air, jet water, and sodium bicarbonate powder to remove discoloration, stains, and soft deposits on your teeth.